Game News God of War Ragnarok: very soon a release date on PS5 and PS4?
It's one of the most anticipated games of the year and even of this whole beginning of the new generation: God of War Ragnarok is going to make noise, a lot of noise and it may well be that its release date has just leaked. on the Internet.
11110, the mystery number
There is the mystery man that we know well in Batman, then there is The Snitch. The latter became known quite recently thanks to numerous leaks which all came to light when he came out of nowhere: for example, he leaked the entire State of Play, the return of Crisis Core: Final Fantasy VII or the inclusion of Hollow Knight: Silksong in the Xbox Game Pass.
In short, this mysterious Internet user seems particularly reliable. Only here, he never sends his information in a clear and readable way and like today, he likes to do some riddles from his Twitter account, no doubt to excite the community. This is precisely the case with this GIF of Kratos, who can be seen smiling with a scroll of numbers, displaying the number 11110. Kezako?
An announcement on June 30?
Among the most probable hypotheses, it turns out that the decimal base of this binary code 11110 is "30". 30, like June 30 for example, the date on which many agree that a State of Play could take place there : we would then see a reveal in good and due form and above alla release date on PlayStation 5 and PlayStation 4. Unless 30 is the game's release day in one of the next few months…September 30? October 30? November ?
Probably the most plausible answer in this thread

hope he gives another hint.

—Doctor (@TingyDoctor) June 23, 2022
Very valuable information that has many fans boiling : all we know is that God of War: Ragnarok is indeed scheduled for 2022, obviously exclusively on Sony machines. We should hear more very soon if the theories about this mysterious GIF are true…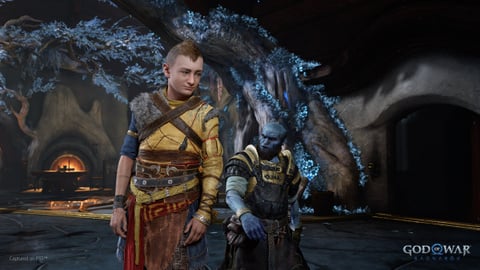 ---