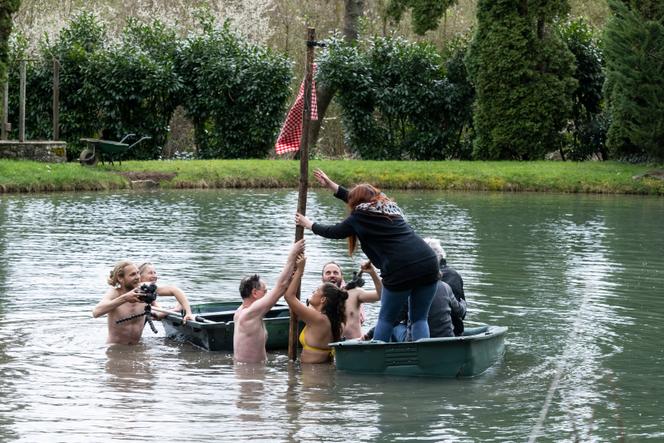 FRANCE 5 – MONDAY JULY 11 AT 9 PM – DOCUMENTARY SERIES
During the launch of "Nus & Culottés" in the summer of 2012, the title was considered to be a catch-all, in mode "if you have to get naked to appear on France 5, where are you going? ". Especially since the concept does not deserve to be summarized: two young men leave without money or clothes, but with two cameras on their shoulders and, in mind, a wacky goal to achieve, relying solely on the generosity of others. It can be anything from "rolling in a red convertible and going clubbing in Paris", in their first documentary, to "offer a piano concert to a glacier" – the Blanc glacier, in the Hautes-Alpes -, in the exceptional double issue of this Monday, July 11.
However, you have to watch "Nus et culottés" at least once to talk about it. We must follow in their adventures Nans (Nans Thomassey) and Mouts (Guillaume Tisserand-Mouton), 37 and 36 years old respectively, allow themselves to enter into their fantasy to appreciate their sincerity and believe in the magic of encounters.
Nearly 620,000 viewers were won over from the first season; between 899,000 and 1.22 million for season 9, during the summer of 2021. For the others, a "10-year-old special" (on France.tv) offers an overview of the highlights of the series, while breaking the codes : warmly dressed, Nans and Mouts receive, under a wooden tent, six people out of the two thousand met in a decade. On the menu, primrose leaf toast and nettle soup.
Read also:
TV: Mouts and Nans hit the road again, still "naked and cheeky"
But, by retaining only the most moving sequences, the "Special" does not reflect the progress of a "classic" episode, when "Prelude" and "Concerto for a glacier" are exemplary in this respect. On an azure blue background, the first images thus show our two acolytes near Saint-Raphaël (Var), in Adam's outfit. But with a virtual fig leaf as a cache-sex while they make a makeshift boxer shorts. Here we go : "We are bush, you are cotton"says Nans to approach a first couple, who will open their house to them and tell their life story.
"Authenticity, main pillar"
Next will come Jamel, a fisherman from Cannes as we thought he no longer existed; Stéphane, in Castellane (Alpes-de-Haute-Provence), overwhelming when he reveals the origin of his addiction; Kevin, a young pianist and piano restorer, who lives happily with his partner, in Guillestre (Hautes-Alpes), in the mountains. Everyone, according to their abilities, will help Nans and Mouts.
In a television world lulled by the catastrophism of continuous news, such humanity may seem suspect. Some thus suspect the organization of castings upstream. What Xavier Grimault, deputy director of discovery and science at France Télévisions, refutes : "Authenticity is the main pillar of Nans et Mouts' approach. »
Read also:
TV – "Nus et culottés" to the tune of "My cabin in Canada"
Others criticize the Care Bear side of the series. "We're going to talk about incest, abandonment, alcoholism, melting glaciers…"retorted, on June 10, Emmanuel Priou, associate producer. "It's not that we only want to see the positive: rape is negative, chained Mouts, but we bet to see otherwise. » It's this step aside that feels good. It even seems that, after watching Nans and Mouts on TV, an octogenarian started picking up hitchhikers again.
Nudes & Pantiesby Nans Thomassey, Guillaume Tisserand-Mouton, Charlène Gravel and Benjamin Coadic: Prelude and Concerto for an ice cream parlor (Fr., 2022, 2 x 52 min); replay on France.tv.