Game News Exoprimal: the futuristic Monster Hunter with shooter sauce is revealed in colossal gameplay videos
Almost a month ago, the Japanese publisher Capcom gave us an appointment for an event which, failing to lift the veil on a wide selection of titles, focused on more or less short-term releases. The perfect opportunity, therefore, to present its new license, Exoprimal, which brings together a whole host of influences (Dino Crisis, Anthem, Monster Hunter, etc.) for a deluge of action in a chaotic mix of futuristic and Jurassic universes. . Today, the first excerpts from the closed beta have found their way onto the web, to the delight of the curious!
Summary
Monster Hunter in the heart of a futuristic city

Gameplay excerpts that announce an explosive Exoprimal!
Monster Hunter in the heart of a futuristic city
At Capcom, we love action, that's undeniable. Three months ago, the Japanese company took advantage of a State of Play event organized by Sony to make a global revelation. No, Dino Crisis does not return to a completely different era since it is, with Exoprimal, a new framework and license which promises us, essentially, frenzied battles against dinosaurs where each player will have his own specific role and gameplay. However, did not expect a full-fledged campaign mode: it is primarily a multiplayer experiencewith nevertheless a narrative frame, in which two teams of five players will rub shoulders with Jurassic creatures so that one of them wins.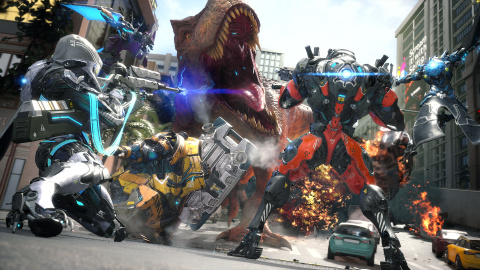 During his recent appearance during the Capcom showcase that took place during the Summer Game Fest, Exoprimal had announced, while revealing a few more excerptsthat the launch of its beta test phases would not be long. Today, American players who have the opportunity to try the game during this first third of July shared very long minutes of gameplay that allow us to see more of what Capcom's beast has in its belly. ! Enough to give enough desire to some to register for the world phases which will take place at the beginning of August.
Yesterday was therefore the first test series across the Atlantic organized by Capcom and today the web has been flooded with content on YouTube which offers us a very broad overview of the gameplay ofExoprimal. 40 minutes here, more than 1h or even 1h20 there, there is plenty to make (good?) first impressions of the title which reveals enough to pique our interest. Thanks to the videos posted by the various lucky ones, we can learn more about the context and the playable characters divided into three classes (Assault, Tank and Support). But before all that, you have to go through the character editor box and then start a little tutorial.
It is therefore after these few steps that we get to the heart of the matter, namely the Dino Survival mode, where both teams must quickly complete their first objective of hitting a target, while eliminating the small fry made up of small dinos, and eliminating it. The target in question? A huge triceratops against which the team members will have to use all their techniques. However, as the bar at the top of the screen shows, these are only the first steps towards victory and there are many more clashes waiting for you.. In short, we let you admire all this thanks to these two videos!
---
---