Game News Company of Heroes 3: The impressive war game gets a release date
On July 13, 2021, SEGA and Relic Entertainment announce that the Company of Heroes strategy game saga will be entitled to a third episode. Today, a year after the initial announcement, the publisher and the studio are speaking again to reveal what we were all waiting for: a release date.
War will break out in November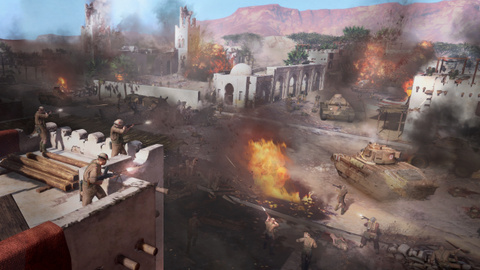 If you're looking forward to Company of Heroes 3, you've come to the right place! Indeed, the strategy game, accompanied by a brand new trailer, takes advantage of this sunny day to reveal its release date and, good news, everything is coming for the end of the year. Specifically, Company of Heroes 3 will be available on PC via Steam from November 17 next.
Company of Heroes 3 will give fans and newcomers to the series the biggest and deepest single-player experience in the series. At launch, Company of Heroes 3 will feature four playable factions and two unique Single Player experiences, featuring the dynamic Italian Campaign and the North African Operation. Relic Entertainment
However, players who want to try the experience sooner do not have to wait until November, since they can already register for the feedback program to gain access to one of the game's missions that takes place in northern Africa.
Players can try out the Alpha mission and take command of the infamous Deutsches Afrikakorps (DAK) in an attempt to push the British back from their entrenched positions. Relic Entertainment
Note that this mission is available on Steam for one week, from now until July 19.
Several editions and a pre-order offer
When launched, Company of Heroes 3 will have the right to several editions. The latter, whether Standard or Premium, offer you to leave with the Devil's Brigrade DLC (skin for infantry and vehicle, banner and title for profile) for all pre-orders. For more details on the different editions, we suggest you look at the insert available below.
All editions in detail
Company of Heroes 3 (Standard Edition Digital version)
The game (Steam key)
The Devil's Brigade DLC
Company of Heroes 3 (Digital Premium Edition)
The game (Steam key)
The Devil's Brigade DLC
Premium DLC Pack

HQ Cosmetic
Victory Point Cosmetic
M4 Sherman Cosmetic
Expansion #1 – Year 1
Company of Heroes 3 (Launch Edition)
The game
The Devil's Brigade DLC
The Dosier or Metal box (your choice)
A Devil's Brigade patch
A map
An art book
Company of Heroes 3 (Premium Edition)
The game
The Devil's Brigade DLC
Premium DLC Pack

HQ Cosmetic
Victory Point Cosmetic
M4 Sherman Cosmetic
Expansion #1 – Year 1

The metal box
A Devil's Brigade patch
A map
An art book
A compass
A medal
---