Game News Why this FPS which is making the buzz two years after its release, in top Steam sale? Discover Hypercharge
Unnoticed for several years, Hypercharge is now the co-op game not to be missed. How ?
It is currently causing a sensation on social networks and we believe it came out of nowhere: Hypercharge: unboxed, an independent FPS developed and published by the five Englishmen of Digital Cybercherries, is meeting with such a wind of popularity that it finds itself hoisted on the Steam sales podium for a few days now. On Twitter, video clips of his gameplay garner millions of views. A surprising fact since the title is still two years old and was even released in early access five years earlier. A marketing strangeness probably propelled by the boost of influential Internet users (such as esports commentator Jake Lucky) which inevitably made the developers happy. Hypercharge seduces for its Toy Story style universe in which it is a question of embodying articulated toys in an experience combining shooting game and tower defense.
This was the moment that I heard Hypercharge reached the front page of Steam. I got to share that moment live with @xboxera.💚

Thank you small soldiers, for everything! pic.twitter.com/nF08EaBVwk

— Hypercharge | Xbox Players, Sign Up (Check Bio) 👇 (@HyperchargeGame) July 10, 2022
On its Twitter page, Digital Cybercherries hardly mentions the other platforms on which the game is already available (PC and Switch), but invites you to join its newsletter dedicated to the Xbox console for an upcoming release. The strategy seems to be working: The studio says more than 20,000 people signed up for its newsletter last week.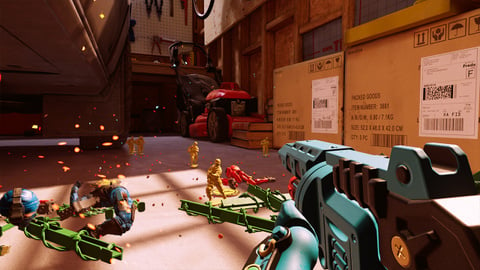 ---
An ultra-promising co-op game
Designed for cooperation, the game can be played both locally via split screen and online. With its cartoonish artistic direction and its 4 difficulty modes, the experience is open to as many people as possible. A point that already largely forges its growing popularity and its main strength. The proposal also turns out to be quite complete, the player having access in particular to a classic adventure mode in which you are responsible for defending bases against enemy toys, to its "free movement" variant, to a tutorial mode and to a mode. versus in which you have the opportunity to face other players.
In the "classic" route that we have chosen to follow via the demo (accessible on Steam), it is for the player to build defenses, recover resources and explore the universe of Hypercharge between several salvoes of small plastic soldiers or flying saucers come to destroy your constructions. It will be necessary to regularly scrutinize the appearance of tokens to be spent against turrets or barricades to be placed on dedicated spots. A program that's as rhythmic as it is fun, controller in hand. Fresh out of its packaging, the character, although quite rigid in its movements (plastic obliges), bends as well to the FPS view as to the TPS view. The shooting sensations are quite good and the weapons are pleasant to handle. In short, a well-deserved success, Hypercharge has all the hassle-free co-op play that is likely to delight Xbox players when it is released on the platform.