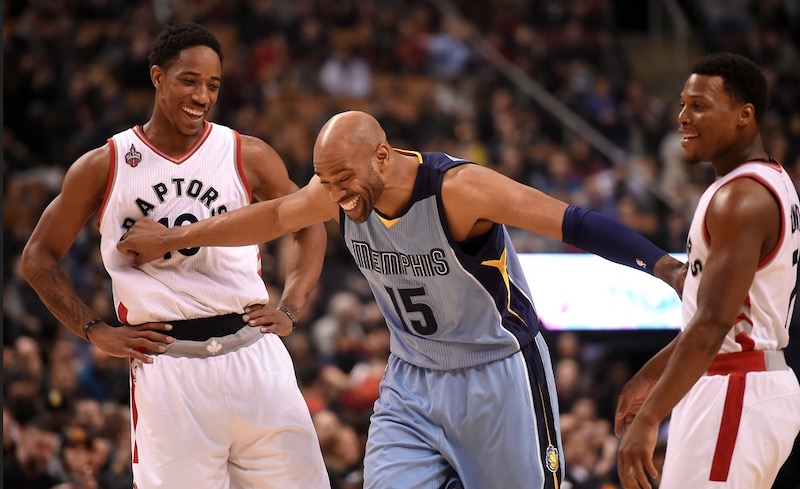 " It's a strange way to say that I'm ending my career. Really… » Beginning of March 2020, Vince Carter realizes, with a few tears in his eyes, that he may have played his last game of his career. The league has just announced the suspension of its championship, for an indefinite period, due to the emerging coronavirus epidemic.
A few months later, he formalizes his retirement. The Hawks jersey will therefore be the last of the 43-year-old player who would have liked to put on another one before leaving the big stage: that of the Raptors. Kyle Lowry was also among those who wanted to see "Vinsanity" return to Toronto, the city where he made his NBA debut in 1998 and began to build his legend as the best dunk player in history.
" I don't know if anyone knew about it but I tried to get Vince back with us at some point. I wanted Vince. I tried », says the current Heat leader, guest of the pensioner's podcast precisely. " We had conversations "recalls with a laugh the eight-time All-Star.
Someday it will happen
At the end of his career, Air Canada more than once expressed his desire to return to Canada. After three-year terms with the Mavs and then with the Grizzlies, several opportunities to sign him at a minimum presented themselves. " It's one of the things that will happen. For sure. One day or another, it will happen. I think it's supposed to happen ", he assured, convinced, in December 2017.
During last summer 2019, after the Raptors won the title, he still let go: " That would be cool, and it's just a matter of whether it works and whether it's something Toronto wants to do. Obviously, the fans more or less want that to happen, but it has to be a wish of the management and they have to feel that they need my services. »
Implied, even at 40 years old, he did not want to be satisfied with a role of mentor. " I was one of the biggest supporters of trying to get him back in Toronto and Vince was all for it. So those who didn't think Vince wasn't all about returning to Toronto? It's bullshit. We tried to make it happen ", continues today Kyle Lowry, to whom Vince Carter had granted the unofficial title of best player in the history of the Raptors a few years ago.
Obviously, the Canadian leaders were not convinced, despite the very strong, sometimes tumultuous link between the franchise and its former player.