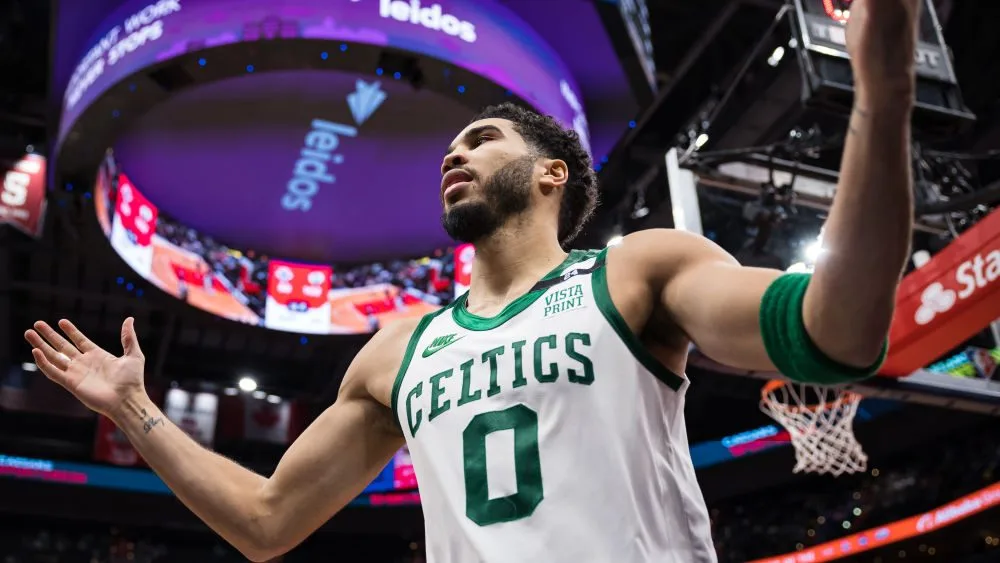 Jayson Tatum had saved the worst for the end, such was the observation made after the performance of the Celtics winger during Game 6 which saw the coronation of the Warriors at TD Garden. Hit in the shoulder since the conference final against the Heat, he ended up being overtaken by pain to return a sad 6/18 in shooting.
Seven weeks after the end of the season, the player spoke about it and wanted to be reassuring. "Yes, I feel much better. It took time for my shoulder to rest, as much as needed. So I definitely feel a lot better," he said on the sidelines of a camp held in Saint Louis, his hometown.
Full rest time required
The season has been exhausting and the rest periods rather short since Jayson Tatum also spent last summer preparing for (and then winning) the Tokyo Olympics.
More than rehabilitation, he simply needed time to recharge the batteries, starting with his aching shoulder, which, like the rest of his body, benefited from this period without high-level basketball.
"The off-season is shorter, since we have played much longer. So you always have to take the time you need to recharge yourself, and give your body a little rest, give your mind a little rest, enjoy time with your family, go on vacation, things like that.he added. "Then when it's time to get back to the gym and get your body back in shape, start eating right, change your diet, and whatever else you think is necessary to prepare for the next season. Every off-season is a little different.
Jayson Tatum took the opportunity to give his fitness program: start to gradually restore his body and his muscles in working order, but also monitor his diet.
"It's always, first and foremost, about taking care of my body, working my legs in the weight room and making sure my 'core' is okay. I also change my diet, I try to eat better. The basketball part is the easiest to assimilate. I think it's your body that keeps you level."
Jayson Tatum
Percentage
Bounces
Season
Crew
GM
Minimum
Shots
3 points
LF
Off
Def
Early
pd
party
Int
bp
CT
Points
2017-18
BOS
80
31
47.5
43.4
82.6
0.6
4.4
5.0
1.6
2.1
1.0
1.4
0.7
13.9
2018-19
BOS
79
31
45.0
37.3
85.5
0.9
5.2
6.0
2.1
2.1
1.1
1.5
0.7
15.7
2019-20
BOS
66
34
45.0
40.3
81.2
1.0
6.0
7.0
3.0
2.1
1.4
2.4
0.9
23.4
2020-21
BOS
64
36
45.9
38.6
86.8
0.8
6.6
7.4
4.3
1.9
1.2
2.7
0.5
26.4
2021-22
BOS
76
36
45.3
35.3
85.3
1.1
6.9
8.0
4.4
2.3
1.0
2.9
0.6
26.9
Total
365
33
45.6
38.3
84.4
0.9
5.8
6.6
3.0
2.1
1.1
2.1
0.7
20.9