Still just as active on social networks at almost 38 years old, LeBron James never lets a sporting buzz pass without reacting to it. This is what he did again recently when he discovered an exceptional action delivered by a French international… of football!
After stopping off in the Maldives and Dubai a few weeks ago, he could soon do the same in France. LeBron James will indeed have the opportunity in a few days to follow his son Bronny, who will temporarily put down his suitcases in Paris for a big meeting. On the spot, the King will be able why not attend a football match, and live moments as memorable as the one who has just taped him.
LeBron James flabbergasted by Eugenie Le Sommer
In a country that has long considered this sport as a minor sport, football is gradually beginning to gain a significant place in the media and on American social networks. Including its female version, with some of the best players in the world playing in the NWSL, including Eugénie Le Sommer. A highlight of the French striker, dating from August 2021, has just caused a sensation on Twitter:
This is criminal 🥲🥹⚽️

Ronaldo Sesko Frankie De Jong Manchester United pic.twitter.com/oat6NNGycg

— MONEY (@Dm4Price) August 3, 2022
11.3 million views, nearly 9,000 likes: the wonderful sequence of ELS will have taken a year to make the buzz, but despite everything has been collecting huge compliments for a few hours. Some of which come from prestigious Internet users. LeBron James indeed shared this exceptional goal on his Instagram story, amazed at the technique of the former Lyon goalscorer!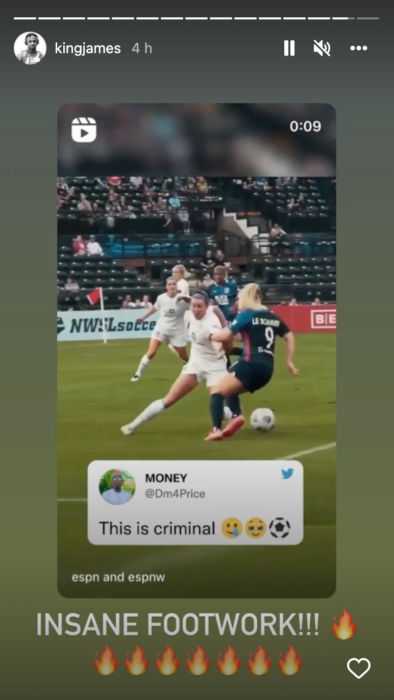 Incredible technique!!! 🔥🔥🔥🔥🔥🔥🔥🔥
Bad luck for LeBron James, who will not have the opportunity to follow a meeting of D1 Arkema during his possible stay in Paris. The leader of the Lakers can always take a dip at the Parc des Princes to admire the exploits of Neymar or Leo Messi!