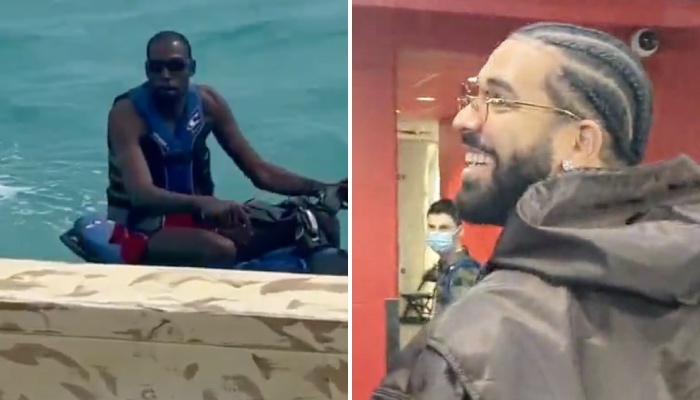 @popcaanmusic / @champagnepapi
Kevin Durant did not necessarily have time to rest this summer, he who was at war with his leaders regarding a possible departure. The situation having finally returned to normal, the number 7 of the Nets flew to a paradise island, with big superstars of music.
Kevin Durant no doubt knows, next season will be crucial for the rest of his career and for his legend. Indeed, after the ridiculous elimination of his Nets against the Celtics in the first round of the last playoffs, a series in which he was transparent, he will have to prove that it was only an accident, and that he is indeed the unstoppable player that everyone thinks.
Above all, he will have the opportunity to show his many detractors that he is capable of carrying a team of which he is number 1. He's a two-time Finals MVP, sure, but the Warriors won before him, they just won without him, proof that Steve Kerr's system is the main reason behind Golden State's success. The excuses in case of failure of the Nets will not be numerous, since the maligned Sean Marks has mounted a monstrous workforce.
Kevin Durant on vacation with Drake and J. Cole!
Kyrie Irving is still there despite the rumors with the Lakers, Ben Simmons seems more motivated than ever, Seth Curry and Joe Harris are exceptional triggers, when TJ Warren, Royce O'Neale and Markieff Morris will form an insane bench… But before thinking about all that, Kevin Durant has decided to organize a dream vacation with his superstar friends.
Brooklyn Nets Kevin Durant in Turks & Caicos with Drake pic.twitter.com/j2OchsRvXn

— NetsKingdom 👑🗽 (@NetsKingdomAJ) August 31, 2022
Kevin Durant, Drake, J. Cole and Popcaan link up in Turks and Caicos 🏝

(via @PopcaanMusic) pic.twitter.com/k3bNS8U6Kj

—ClutchPoints (@ClutchPointsApp) August 31, 2022
When other superstars like Giannis Antetokounmpo and Luka Doncic will compete in the Euros in the coming weeks, Kevin Durant flew to the Turks and Caicos Islands with music superstars Drake, J. Cole and Popcaan, where they do summer activities like jet skiing. A good way for him to clear his mind after an anything but restful summer.
Kevin Durant chose his friends well, since Drake and J. Cole are both big basketball fans, one attending almost every Raptors game, the second having had a short professional career. No doubt about it, they will play before leaving!