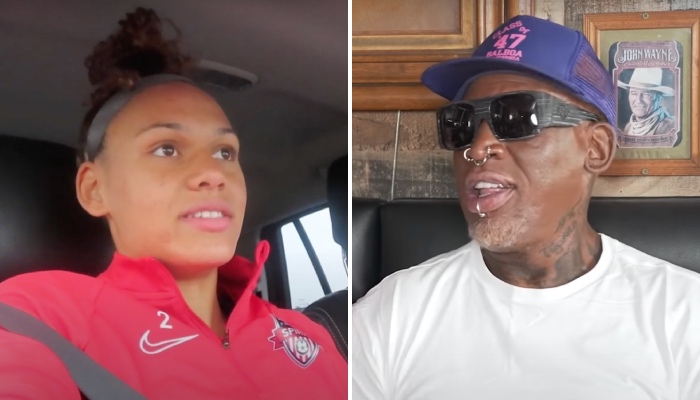 Trinity Rodman (DR) / Full Sent Podcast (DR)
Long in the shadow of her father, Dennis, Trinity Rodman is really starting to make a name for herself on the other side of the Atlantic. The proof, with the immense consecration that she has just received following her big performances on the football pitch!
The family genes definitely resemble those of great champions. After the success of Dennis Rodman on the NBA courts, it is now his daughter, Trinity, who splashes the fields with all her talent. Not those of basketball, but of football, where she perfectly assumes the label of great hope of her sport across the Atlantic. She has also reaped the rewards recently.
XXL and unprecedented jackpot for Trinity Rodman
At only 20 years old, Trinity Rodman is already panicking observers with her performances in the NWSL, the American women's soccer league. After having done better than his father by joining the ranks of Team USA a few months ago, the young attacker continued her mad ascent to the heights… via the economic component. According to B/R Soccershe has just signed the most lucrative contract in the US championship!
Dennis Rodman's daughter Trinity Rodman just became the highest paid player in the National Women's Soccer League.

At 4-year, $1.1M deal. 🔥

(via @brfootball) pic.twitter.com/TFMwbRL4zt

— Legion Hoops (@LegionHoops) August 30, 2022
Dennis Rodman's daughter, Trinity, has just become the National Women's Soccer League's highest-paid player by signing a 4-year, $1.1 million contract. 🔥
A feat all the more remarkable given the stars who play in the NWSL, including Alex Morgan, Megan Rapinoe and Rose Lavelle.
It must be said that the potential of Rodman well deserves such an investment in the eyes of the leaders of the Washington Spirit. Their nugget already has a nice record of 4 goals and 2 assists in 13 games this season, and has certainly not finished delighting. The proof, with her last class action, where she chained a heel, supersonic race and millimeter caviar!
Now THAT was pretty @WashSpirit. 😍

Trinity Rodman delivers an assist to Ashley Hatch and we're tied up in Houston. 👀 pic.twitter.com/lz8A5EBOdN

— Attacking Third (@AttackingThird) August 28, 2022
Trinity Rodman continues to explode in the NWSL, where she now simply ranks as the highest paid player. All at only 20 years old please. What undoubtedly make the pride of his famous father!