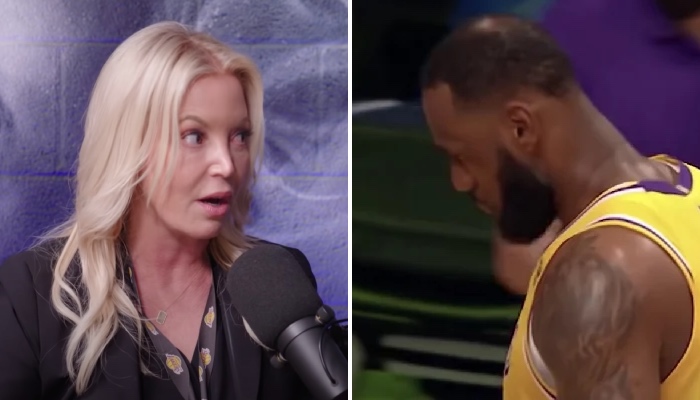 Showtime Basketball / NBA (DR)
The Lakers are going through a period of great doubts, despite a theoretically overpowered workforce. However, the owner of the franchise categorically refuses to use a tactic to strengthen. It's all to his credit.
They already saw themselves on the throne of the league, they found themselves a laughing stock of it a few months later. With only 33 wins for 49 losses, the Lakers were an absolute disaster in 2021-22, to the point of even missing the Play-In. The lean years were, however, to be over with the arrival of LeBron James and Anthony Davisbut it now feels like 5-6 years back, when the Angelinos squatted the top of the draft.
Faced with the setbacks they experienced last year, some also advise them to tank for good, piling up the defeats in order to accumulate the top draft picks. Only now, they already have not many picks left since the trade for AD… and in any case, it's not their style as Jeanie Buss affirmed recently. The owner of the Pourpres et Ors flatly refuses to even consider this possibility, which she explained on SiriusXM radio:
Jeanie Buss refuses to tank with the Lakers
"My father never [tanked] in 32 years"

Jeanie Buss breaks down why she'll always try to put the Lakers in a position to succeed #LakeShow@JeanieBuss | @JumpShot8 | @DarthAmin pic.twitter.com/sISzrwIuM6

— SiriusXM NBA Radio (@SiriusXMNBA) August 30, 2022
Some people may debate the idea of ​​tanking for several years. My father (Jerry Buss, deceased ex-owner, editor's note) has never done that in 32 years. It's just not how he would have seen the Lakers mark, to be at the bottom of the standings, year after year. He always believed that the fans had invested their time and money in your team, and that you had to perform for them.
If you don't, they'll move on and find something else to spend their time and money on. They deserve a quality product. We won't do that.
Given that we are talking about one of the two franchises with the most career champion banners, to lose on purpose would indeed be an insult to the historical heritage of Californians. However, the fans have not been spoiled lately and the release of the big boss does not necessarily go well:
Makes that statement while backing Russ and saying he was their best player last year. Really have to question her definition of quality.

— DonDripper (@DonDriper) August 30, 2022
She makes this statement while supporting Russell Westbrook and saying he was their best player last year. She really needs to challenge her definition of quality.
In honor of her father and what the Lakers stand for, Jeanie Buss has absolutely no intention of considering tanking, should the results continue to be disappointing. On the other hand, not sure that LeBron James would appreciate this, he who has just returned for a few more seasons and who wants to win one last title before retirement.