The decline that the crypto market has been experiencing since early 2022 has led to a sharp decline in investor interest in non-fungible tokens (NFTs).
This month, interest in non-fungible tokens has sunk to new lows. According to research by Be[In]Crypto and Google Trends data, global interest in NFT-related topics has dropped sharply.
On Google Trends, the index of the evolution of interest reflects the proportion of searches of a keyword (in this case, non-fungible token) compared to the region where its rate of use is the highest . A value of 0 or close to 0 means that there is little or no interest, while a value of at least 50 means that the term is highly searched by the world's population.
The term "non-fungible token" reached a value of 26 in the last days of May, a decline of 74% from the peak interest of 100 reached in January 2022.

In January 2022, the monthly volumes of the main NFT marketplaces reached an all-time high of $16.54 billion. In the last days of May, they fell to around $4 billion, which is equivalent to a 75% drop from January.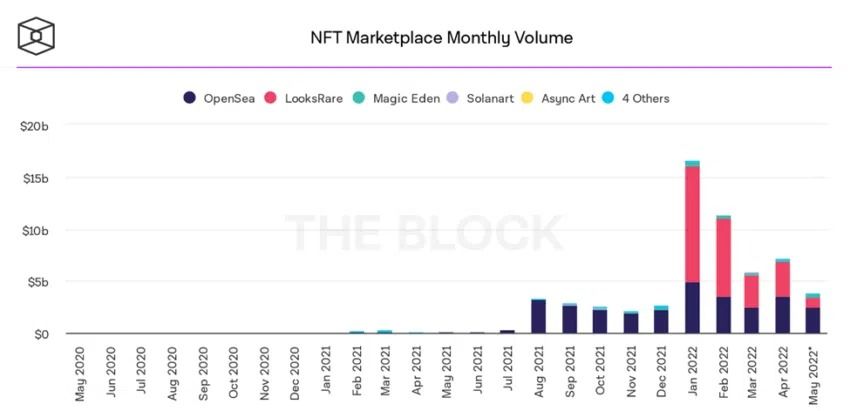 Among the NFT collections that contributed to the explosion in numbers in January were Bored Ape Yacht Club (BAYC), Mutant Ape Yacht Club (MAYC) and Axie Infinity.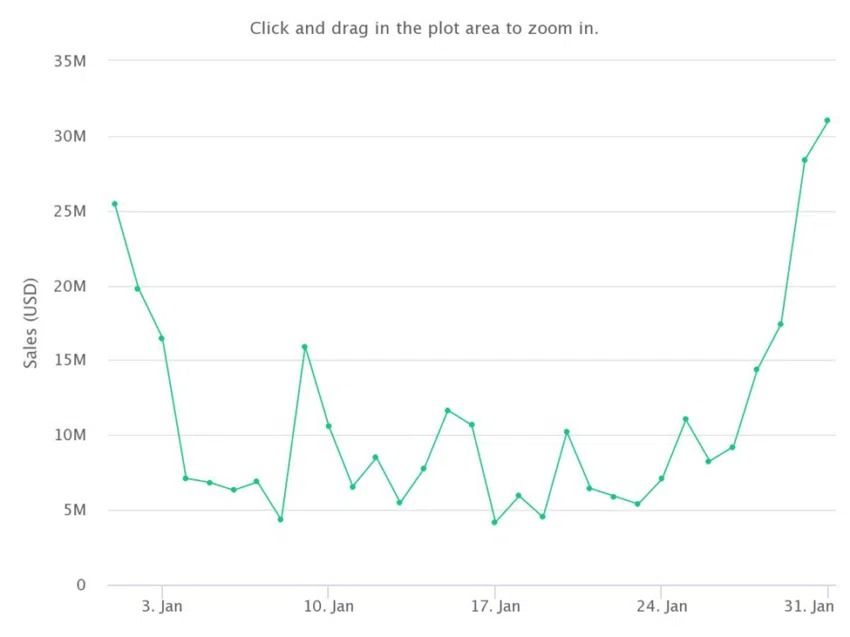 In the last days of May, the sales volume of NFT BAYC hovered around $200 million, down 41% in four months.
A sharp drop in NFT sales
As of January 2022, the sales volumes of Axie Infinity and Mutant Ape Yacht Club were approximately $126.49 million and $252.33 million, respectively.
However, since the start of the second quarter of 2022, sales of non-fungible tokens have struggled to recover.
For example, Axie Infinity recorded a total sales volume of $6.6 million, while MAYC made $163.96 million in May. Overall, Axie Infinity saw a 94% decline while BAYC saw its sales volume drop 36%.
Currently, the most searched topics on Google around the world are inflation, the Russian-Ukrainian conflict, gun control, and the global crypto market crash (including prices and total locked values ​​of digital assets) .
Disclaimer
All information on our website is published in good faith and for general information purposes only. Any action taken by the reader based on information found on our website is entirely at their own risk.