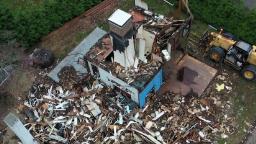 Neighbors and officials in Norwalk say they are angry after a house built in 1677 was knocked down Saturday without a permit.
The land was granted by the king of England to Thomas Hyatt in 1677 and more recently was home to a noted preservationist — now most of it is gone.
Officials say the owners had a permit to do renovations but not tear the house down, which would require review by the historical commission.
But on Saturday, a contractor came in and started taking the place apart.
"They had a permit for a second-story remodeling with no change to the footprint and first floor kitchen, bathroom laundry only," said chief building official William Ireland.
Neighbors say they are furious that this happened.
"When I went down and saw the building was gone I said 'Oh my goodness, it's crazy,'" said Chris Clarke.
There is now a stop work order in place. The city is responsible for fines and code violations. It will be up to the state to determine if criminal charges are possible.