The image seems taken from a science fiction film. However, it is very real: the photo was obtained by the Orion capsule, during the last lunar flyby of NASA's Artemis I mission.
This is not a scene from a science fiction movie. It is the very real flyby of the Moon by the first mission of the Artemis program. On December 5, 2022, the Artemis I mission flew past the Moon for the last time. Thanks to this final rapprochement, the ship can now return home. The return of the Orion capsule, which should fall back into the Pacific Ocean, is scheduled for December 11.
As it approached the lunar surface, Orion continued to take us on the odyssey of Artemis I from space. From outside the craft, a great view of Earth and the Moon was obtained on December 5. It is very poetic, because we see there, from the nearest to the furthest, the ship, the Moon and the Earth, each crescent. Andy Saunders, science writer and specialist in the digital restoration of NASA images, has published his work on this shot and it is worthy of a sci-fi movie.
Is it a movie, or is it Artemis I in space?
This spectacular image was even compared with the poster of a famous film on the conquest of space, Apollo 13. This feature film released in 1995 relates the seventh mission of the Apollo program, which occurred in 1970, during which an incident really occurred. The astronauts were unable to carry out the planned mission and fortunately managed to return to Earth, but at the risk of their lives. The comparison is all the more remarkable, when we know that Artemis I dethroned a record of Apollo 13, the "successful failure" of NASA.
On another picture published by Andy Saunders, we can see, again, the Moon. This time we are at the back of the capsule, while Orion is pointing towards Earth.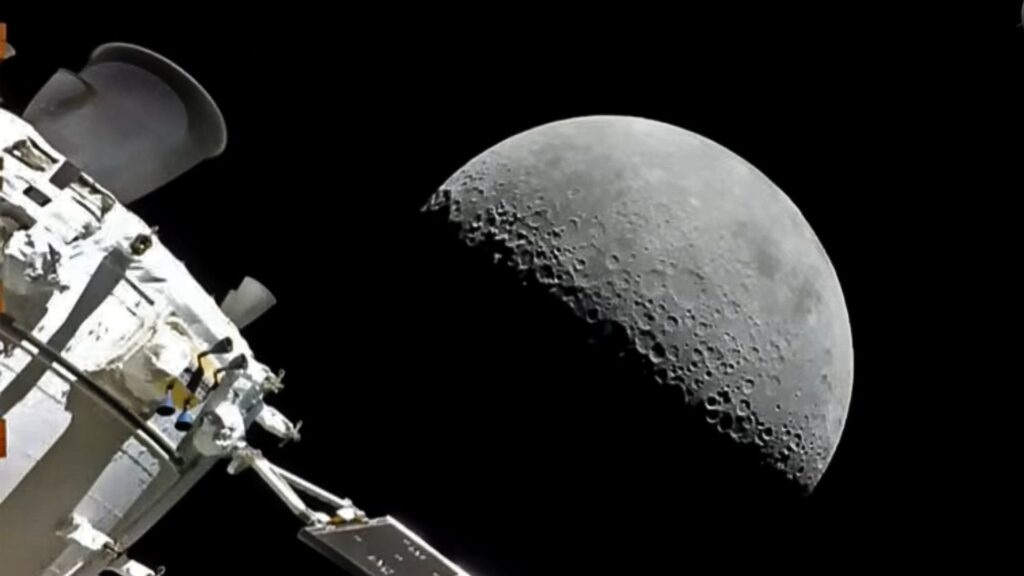 Thanks to the last lunar flyby of Artemis I, Orion used the gravity of the star to accelerate sufficiently towards our planet. The capsule was closest to the surface of the Moon around 5:49 p.m. on December 5, less than 130 km above the Earth's natural satellite.
It is not because the Artemis I mission left without astronauts for the Moon that these feats should leave us unmoved. What NASA is currently doing in space, with its unmanned Orion capsule, is a sort of dress rehearsal, crucial for humanity's return to the Moon. From the Artemis II mission, a crew of 4 people will be in the ship. Remember that humanity has not returned to the Moon since 1972.
For further