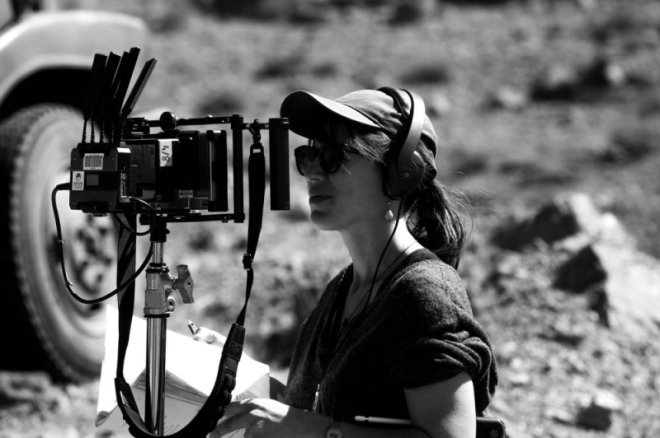 The director explains that her choice of the title "Queens" came from the desire to speak of "heroine figures", very little exploited in Moroccan cinema. "It's a bit of an adventure tale that borrows from the codes of communication and fantasy and tries to invent its own genre. My heroines are complex and each character, with their faults and qualities, can turn out to be their own enemy".
A point of view shared by actress Nisrine Radi who confides that: "it's the hardest film in which I have shot so far, it was a bit trying because we shot in several cities and we stayed there for a certain time each time, … Generally when I read a script, I immerse myself in the character's universe and before playing a role, I completely blend into the character until 'we become one, and in fact, we become one soul. So, I appropriate the character and I do what I want with it afterwards. Of course Yasmine sometimes guided me on what to do, and you saw the result. »
A Western decor against a backdrop of "Thelma and Louise"
Starring Nisrin Erradi, Nisrine Benchara, Rayhan Guaran, Jalila Talemsi, Hassan Badida, Yuness Chara, Salima Benmoumen, Salman Hourma, Abdelhak Saleh, Abderrahim Tamimi and Hamid Nider, the film "Queens" clearly refers to the American film by Ridley Scott "Thelma and Louise" released in 1991 and which tells the story of two women whose weekend excursion turns into a run across the United States.
Yasmine Benkiran's road movie revolves around three female characters, -including the young Asma- and questions different female figures from a time that has not yet passed. Asma is faced with a choice: to remain wisely obedient in an effigy of a pure virgin or to emancipate herself by experiencing a certain form of reproach? A choice that is made in an emergency, an unconsidered choice, stronger than her, which makes her tip over to the other side. This emancipation has a price: it makes Asma an outlaw. The story takes place in Casablanca, Morocco, where the three women are pursued by the police. It's the beginning of a long run for our protagonists, who will cross the Atlas, its red rocks, its valleys in bloom and finally reach the Great South and the Atlantic.
.