Paralyzed by panic attacks, Louise suddenly finds herself trapped in her car, from which she is unable to get out. A fortuitous meeting with Paul, a young man lost with the air of a thug, will literally change the course of his existence.
(Review by Laurine Chiarini)
Synonymous with flight or the key to freedom, claustrophobic nightmare or cozy cocoon, privileged witness to intimate confidences, Louise's car (Marina Fois), mustard yellow Volvo station wagon inherited from his father, is none of that. A utilitarian object allowing her to move about in her depressed daily life as a nurse and a divorced mother on the verge of a nervous breakdown.
Soon her car turns into a cage when, one fine morning, she can no longer get out. Nothing mechanical in the story: no, Louise's problem is paralyzing anxiety attacks that prevent her from getting out of her vehicle, making it an imposed temporary habitat.
the road movie is an initiatory journey as much as a personal journey…–Laurine Chiarini
And this is where the first originality of the scenario lies: the reason why Louise finds herself locked in her car is neither an external constraint, nor a personal choice. As David, a psychiatrist kidnapped with the aim of having him undergo express therapy, will say, people who can no longer leave their homes exist: not daring to get out of their car, on the other hand, is a case in point which he had never encountered.
During the writing phase, the director Didier Barceló discovered that his idea, in the end, was not so far from reality: a psychiatrist confirmed to him that he had once been confronted with such a case, when a patient's anxieties had prevented her from getting out of her car during many hours.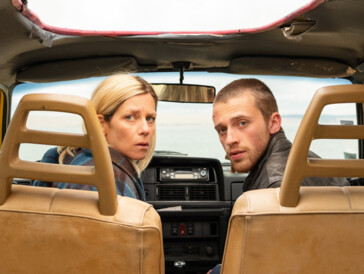 © Pathé Films AG
For Louise, it doesn't matter where her wheels take her: in the midst of a crisis, the main thing is to stay in the reassuring cabin of her car at all costs. It was during a car-jacking that his life literally took another direction: while Paul (Benjamin Voisin) was thinking of stealing an empty vehicle, it is with surprise that he discovers a woman in her forties hiding behind the back seat.
It is he who, wanting to do justice to his brother who died in a road accident, chooses the destination. Lost and battered, the two will end up getting along little by little, a sort of mismatched and involuntary couple who will manage to support each other almost in spite of themselves.
claustrophobic nightmare or cozy cocoon…–Laurine Chiarini
Navigating easily between the cabin and the outside, the camera, without being claustrophobic, manages to capture the best of both worlds, between the dashboard where the head of a dog nods offered by a helpless garbage collector and the landscapes always more clearances leading to Cap Ferret, a goal that Paul has set himself.
Comical situations and improbable encounters alternate with scenes with more realistic contours: each time that cinematographic fiction seems to take precedence over a reality in which the spectator could have projected himself, a balance is restored. Between two layers of incredible comes plausible slip, as when the crew, crossing for the second time the same hitchhiker, decides to make it go up on board.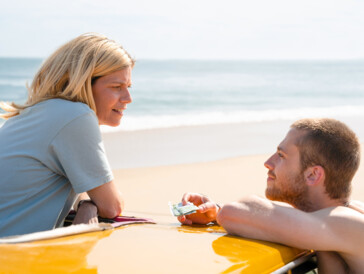 © Pathé Films AG
Electrosensitive, monopolizing space by a flood of opinions forged by YouTube videos and obscure articles, it is thanks to her allergy to waves that the two friends will manage to get rid of her, while she argues with a policeman to whom she had ordered to turn off his walkie-talkie.
Of course, the road movie is an initiatory journey as much as a personal journey: in 3 days, even locked in her car, Louise will live much more intensely than in 10 years of ordinary existence. As for Paul, he will finally manage to make peace with himself. If the film is convincing, it is also thanks to the performance of its two actors: neither doing too much nor too little, they bring freshness – and a little hope – to a dull daily life where nothing seemed to be over. count.
The end, a slightly unconscious, joyful and extravagant leap into the void, will bring them a lightness allowing them to turn the page. As the objects float as if in weightlessness, the two rise to the surface and take a gulp of air, finally freed.
3.5/5 ★
June 29 at the cinema
More information on "Freewheeling".
Trailer
The editor also recommends:
.