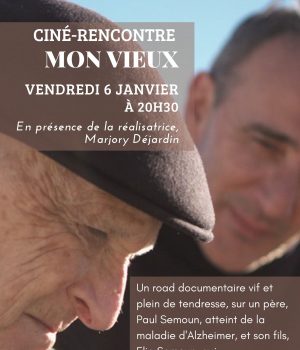 Director Marjory Déjardin will present her film entitled Mon Vieux this Friday, January 6 at 8:30 p.m. at Le Parterre cinema.
A neurodegenerative disease, Alzheimer's affects more than 1,175,000 people in France, or 8% of the population aged over 65. And more than 200,000 new cases of Alzheimer's or another form of dementia are diagnosed each year. This means that there are so few families who are not affected by this terrible disease.
This is the case of Marjory Déjardin and Elie Semoun who co-wrote Mon Vieux together. The film takes the form of a documentary road movie that will leave no one indifferent.
"This film is the melting pot where two apparently contradictory attitudes are expressed in an unspeakable way: the memory of the father who fades and the son who ends up accepting by inviting humor as the ultimate language of tenderness.", describes the director. She filmed for several weeks the complicit relationship full of laughter between Elie and Paul Semoun. The result illustrates another facet of this terrible disease. That of helpers. "Those who have to fight to communicate, those who try to set foot in the patient's surreal universe"recalls Marjory Déjardin.
A few weeks ago, the volunteers of the Alzheimer respite center in Etampes went to see the film and were moved to discover on the big screen, this multitude of details, the joy sometimes, the suffering often, of the sick who take refuge inside themselves. Mon Vieux highlights the deep feelings that unite a father and his son that this ordeal can never erase.
At the end of the screening, Marjory Déjardin will discuss with the spectators about her film and the role of carers in the face of illness.
• Ciné-rencontre Mon Vieux, Friday 6 January at 8:30 pm at Le Parterre cinema. Price €5.