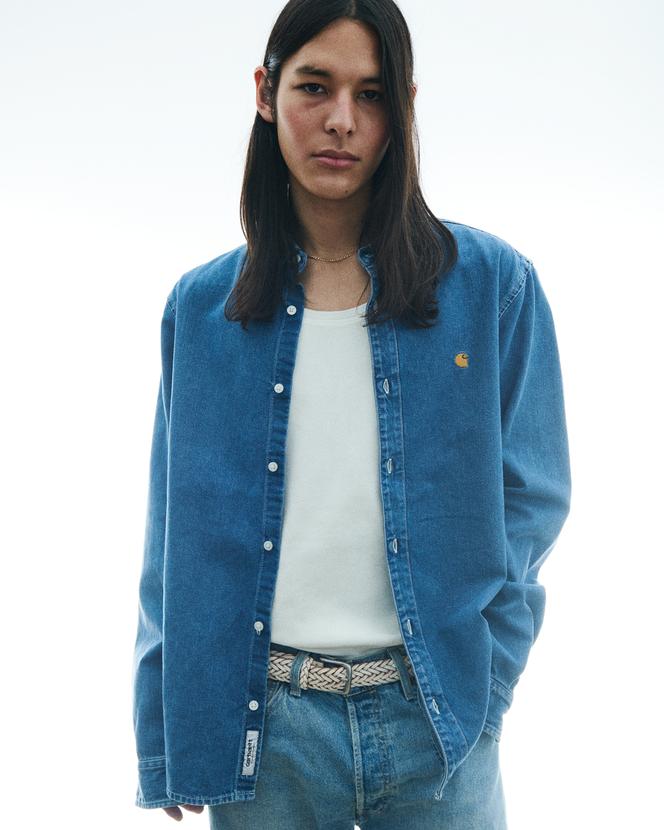 QWhen Brad Pitt appears in the rear view mirror of the Ford Thunderbird, he is wearing a cowboy hat, a white t-shirt and a denim shirt. Hitchhiker JD's huge Texas accent doesn't hurt his sex appeal. He finds himself in the car of Thelma (Geena Davis) and Louise (Susan Sarandon), two friends from Arkansas, eager to escape their daily lives and whose short weekend in the countryside turns into a fatal escape.
But before the throttle kicks in over the Grand Canyon, Thelma spends a torrid night with her fellow traveler. In the early morning, she borrows his denim shirt in the purest cliché of romantic comedies, the boyfriend shirt imposing itself as a transitional object, materializing and prolonging the embrace. But while she still metaphorically curls up in his arms, JD storms off with the $60,000 to help them start a new life.
Continuing on their way to Mexico, as the heat and stress mount, Thelma appropriates the shirt, cuts it out at the armholes and ties its tails above her hips. More comfortable to hold a cop at gunpoint. Attached to gender rape and revenge ("rape and revenge"), the film by Ridley Scott – released in 1991 and whose screenplay is signed by a woman, Callie Khouri – reverses the codes of the road-movie to deliver a formidable story of emancipation and sisterhood (condemning de facto his characters to self-destruct). Going from a white dress to a cheerfully resized denim shirt, Thelma is reappropriating a classic from the American wardrobe, a symbol of virility, a dominant ideological value, which seems to have ruined their lives so far.
Read also:
The turtleneck, warmth at full speed
It's actually in the years 1970 that indigo cotton changes status. Fueled by the pioneering imagination, Ralph Lauren intersects Midwestern culture with style preppy of Long Island and dress up America, making all-over jeans look the height of chic. In 1978, Calvin Klein was the first to see one of his models photographed in vogue and erects, at the same time as an empire, a new eroticism. Worn by Kate Moss in the early 1990s, the denim shirt becomes sexier than a large neckline.
With provocative advertisements, Calvin Klein makes no gender a structuring element of its brand identity. Thirty years later, these questions have escaped the marketing sphere to find themselves at the heart of political debate. The denim shirt, on the other hand, has established itself over time as a classic skull and unbeatable cool. And it's Thelma and Louise's turn to emerge as pioneers.