CRITICISM / FILM OPINION – With "The Cyclades", Marc Fitoussi tells a story of solar friendship that is sweeter than bitter. Olivia Côte and Laure Calamy shine in this buddy movie where the sun comes as much from the Greek sky as from their generosity.
Laure Calamy and Olivia Côte in the sun
Sunshine, of course. That of Greece, that of optimism, that above all of two actresses who dominate their subject with communicative joy. The comedy The Cyclades by Marc Fitoussi belongs to those authentic French comedies that have fun crossing codes and popular universes of comic cinema. And the exercise is not the easiest. He has to buddy and road movie in The Cycladeswith two clowns on a road that leads very quickly towards the unknown. There are references to cinema and a touching adolescent nostalgia, with the music of Eric Serra for The big Blue as an introduction to a story of perilous friendship.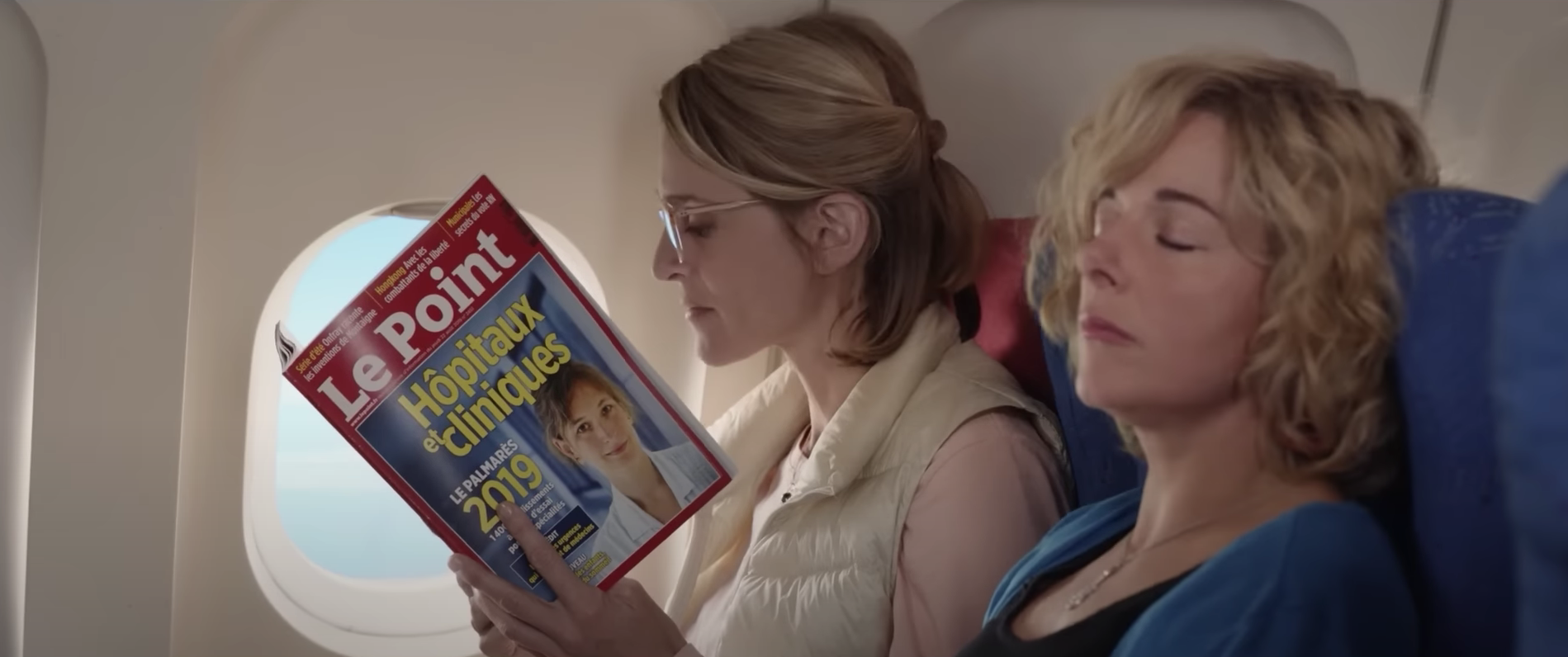 Magalie (Laure Calamy) and Blandine (Olivia Côte) were best friends during college. And then there were failures, a move, the years passed. Now in her forties, Blandine is not far from the Depression following her divorce, never really has a word higher than the other and is politely bored in her life as a radiology manipulator. Magalie is she a freelance music journalist, a real electric battery resourcefulness specialist and always smiling ear to ear. One day when Blandine's son comes across a cd of music from Big Blue belonging to Magalie in her mother's business, he forces their reunion. Hoping to bring his mother out of her torpor. Neither one nor two, after a hilarious dinner where they find it difficult to reconnect, here they are leaving for Amorgos.
A fragile story of friendship
Of course, nothing will go as planned. The trip to the Cyclades turns into a wandering where generous shenanigans of Magalie answer the tongue-in-cheek valves of Blandine. But Blandine is perhaps not the saddest of the two. As Magalie is not necessarily the most surrounded…
The two actresses, including the chemistry is exemplary in the exercise of buddy movie, have the necessary lines to make people laugh, move, love and hate each other at a pleasant pace. There is in The Cyclades a lingering air of their terrific scene in Antoinette in the Cevennes, two women on a road who settle their good and bad accounts. The staging of Marc Fitoussi is also at their service, but often shows too sober to perfectly capture the vertigo of Blandine and Magalie's friendship.
During their adventures, they will find a friend of Magalie, Bijou (Kristin Scott Thomas), a high bourgeois woman with a hippie lifestyle living in Mykonos. If the trio that she forms at one time works well, the character of Bijou exists above all for its dramatic function in the friendship of the other two. Too bad, since in negative his universe then appears as an artifice and handicaps the beginning of more complex subjects comedy The Cyclades. Because if the film mainly keeps humor and lightness as its main objective, it also offers a more serious view of a series of violence, symbolic and concrete. This balance, which is sought from the middle of the story, is unfortunately never entirely found. Despite the great generosity and the quality of the acting of these main performers, major assets of this pleasant comedy.
The Cyclades by Marc Fitoussi, in theaters on January 11, 2023. Above the trailer. Find all our trailers here.